These protein cookies are soft, thick, and chewy, with 20 grams of protein packed into each cookie. The recipe can be sugar free and vegan, with no eggs required!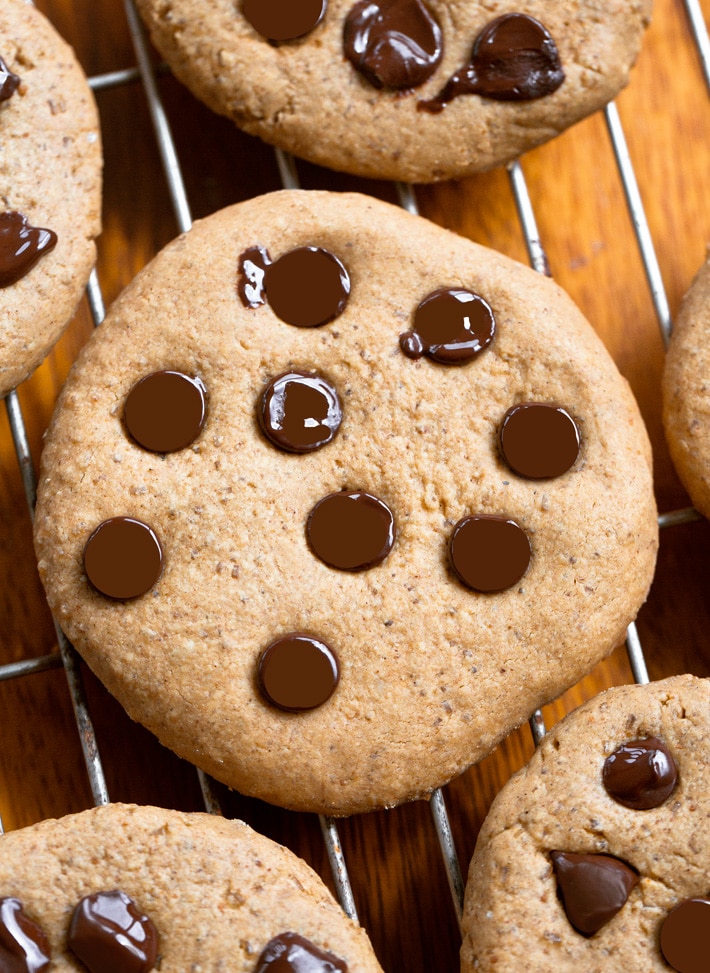 You only need four ingredients to make the protein cookies.
Yes seriously, just four ingredients.
I've gotten so many requests in the past year for a homemade Quest protein cookie recipe, and today it's finally ready to share. The simple healthy snack recipe is super easy to whip up and even easier to customize.
Hopefully you will love the cookies as much as we do!
Also try these protein Black Bean Brownies
Watch the protein cookie recipe video, above
Protein Cookie Flavors
Chocolate Protein Cookies: Replace plain protein powder in the recipe below with an equal amount of your favorite chocolate protein powder.
Snickerdoodle: Use almond butter or cashew butter, and add half a teaspoon of cinnamon to the dough. If desired, roll in cinnamon sugar before shaping into cookies.
Nutella Protein Cookies: Try store bought or this vegan Homemade Nutella Recipe for the nut butter. Taste the dessert protein cookie dough, and omit the sweetener if it is already sweet enough for your tastes.
Coconut Cashew: Sprinkle up to a third cup of shredded coconut into the recipe before stirring. Crunchy or creamy cashew butter is great here as the nut butter.
Vanilla Almond: Stir a fourth of a teaspoon of pure vanilla extract into the cookie dough, made with either raw or roasted almond butter.
Chocolate Chip Protein Cookies: Stir in up to half a cup of large or mini chocolate chips before forming cookies. Or press chocolate chips into the finished cookies. Try dark chocolate, semi sweet chocolate, or white chocolate chips.
Readers also love this Almond Flour Banana Bread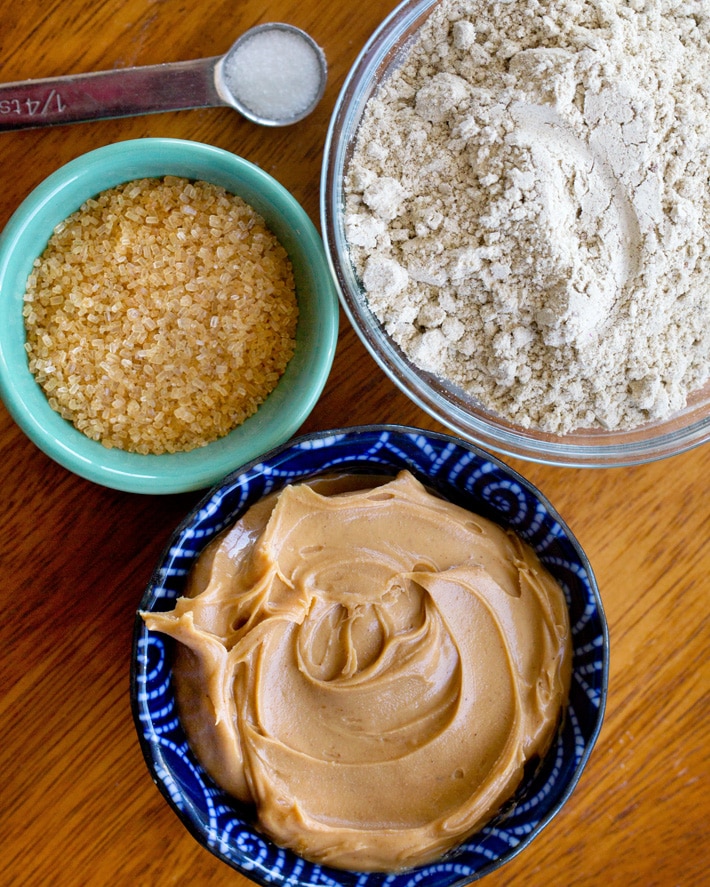 High protein cookie recipe ingredients
Here's what you need to make the protein cookies: protein powder, nut butter, sweetener, and a pinch of salt to add depth of flavor.
The fat source: This can be almond butter, cashew butter, sunflower butter, macadamia nut butter, pumpkin seed butter or another allergy friendly nut free option. I like to make peanut butter protein cookies.
Chocolate chips: These are optional unless you are a chocoholic like I am. It's also fine to substitute an equal amount of raisins, dried cranberries, or Peanut Butter Chips.
Sweetener of choice: Use any all purpose granulated sweetener, such as regular or unrefined sugar, date or coconut sugar, or erythritol or Lakanto monk fruit blend for sugar free protein cookies.
You can use a liquid sweetener like honey or pure maple syrup if you add more protein powder so the cookie dough is not too soft. Or add stevia to taste. Keep in mind that some stevia brands leave a strong aftertaste, so experiment to find one you like.
If using a sweetened protein powder and nut butter, you may not need as much (or any) additional sweetener. Taste the dough to decide.
There is also an oatmeal protein cookie recipe included in the box below.
What type of protein powder?
Look around at a local grocery store or health food store. You will likely find numerous types and flavors of protein powders for sale, including whey protein, brown rice protein, pea protein, egg white, hemp, casein, collagen, and soy protein.
Try out different brands to find your personal favorites. I find that some protein powder brands have a strong artificial aftertaste. Others are more neutral, which is ideal for baking with protein powder.
I prefer unflavored and unsweetened protein powder for cookies, to ensure the most natural taste. But if you have a flavored powder that you love, feel free to use it.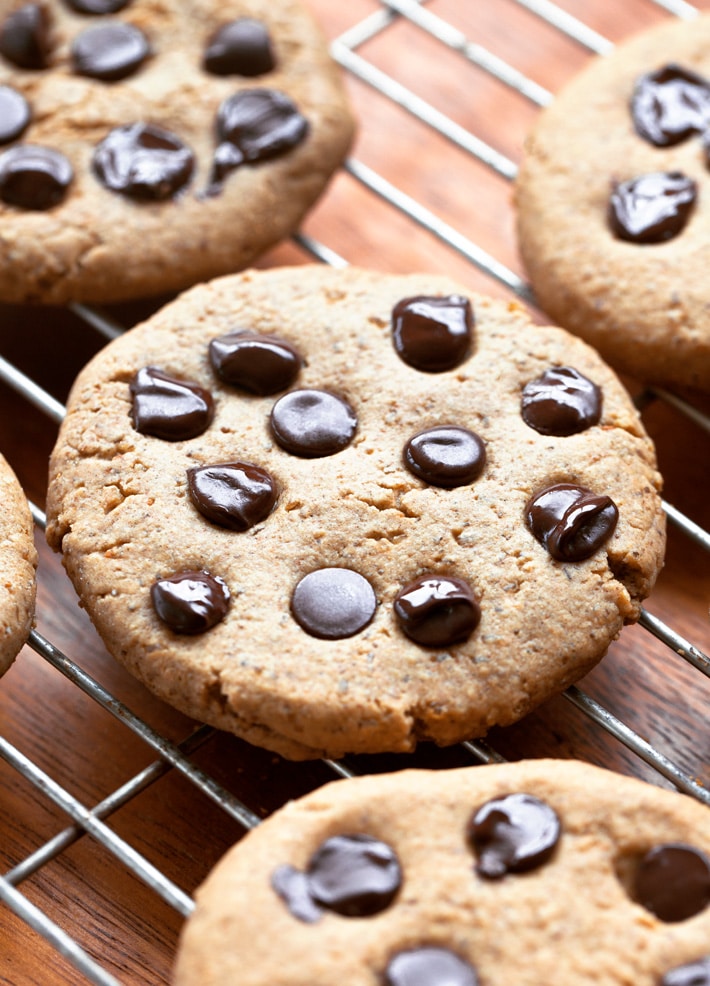 Are protein cookies healthy?
The market is saturated with packaged protein cookies these days. Brands such as Lenny Larry's, Munk Pack, NuGo, Atkins, BHU Fit, and Quest come in an array of flavors like chocolate, lemon, oatmeal raisin, and birthday cake.
While the store bought cookies are packed with protein, that does not necessarily mean all of the options are good for you. Some cookies contain more added sugar than protein, and others include artificial sweeteners, palm oil, or white flour.
Making your own healthy protein cookies at home allows you to control what ingredients to include and lets you skip the processed ingredients or hard-to-digest gums or sugar alcohols.
The homemade protein cookie recipe has no flour, more than three grams of fiber, and up to twenty grams of protein (depending on the type of protein powder used) for just 200 calories in a large cookie.
Leftover protein powder? Add it to these Baked Oats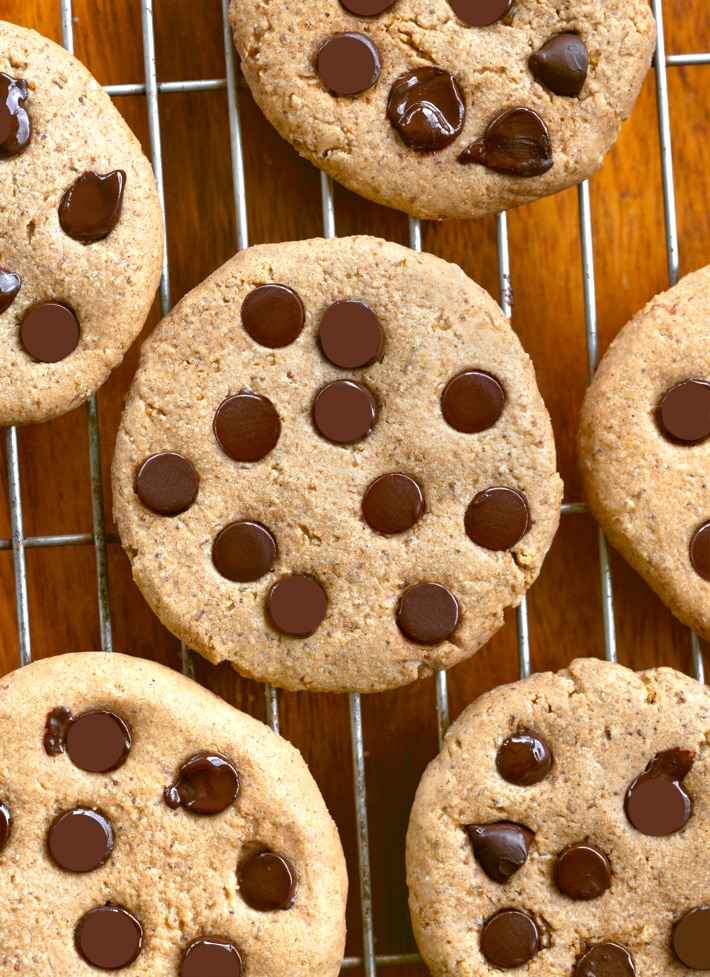 Are the protein cookies keto? Gluten free? Vegan?
For vegan protein cookies, simply choose a plant based protein powder and optional dairy free chocolate chips.
The high protein cookies are gluten free and naturally flourless as long as the protein powder you use does not contain gluten.
To make keto protein cookies, use a keto protein powder and low carb nut butter such as macadamia butter. Sweeten the cookies with granulated erythritol or stevia.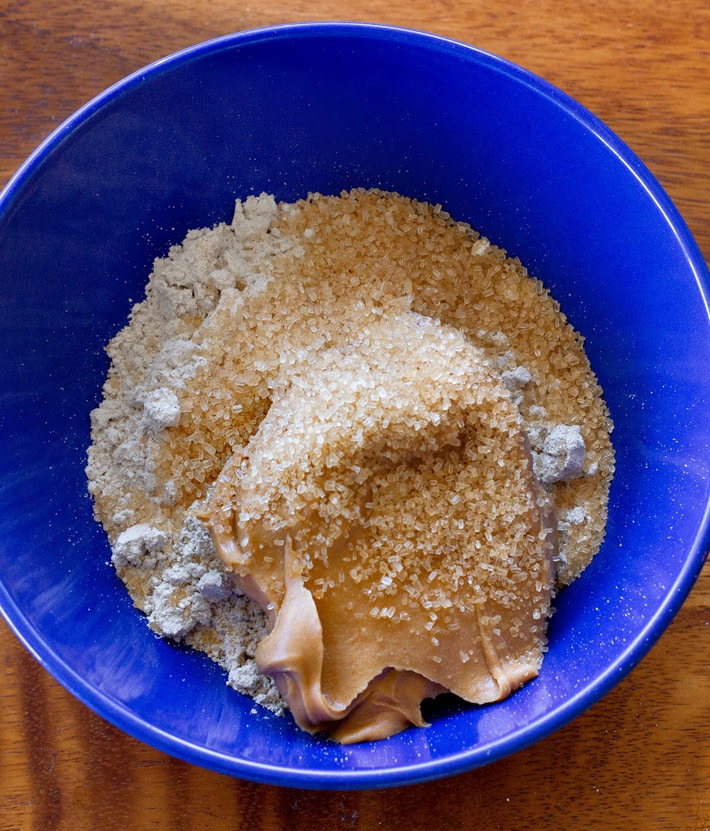 How to make the best protein cookies
Gather all of your ingredients.
If the nut butter is not already easily stir-able (which is especially common if you are using natural peanut butter or almond butter), gently warm it to soften.
Combine the nut butter with all of the remaining ingredients, and stir to form a cookie dough texture.
Break into four pieces, and roll each piece into a ball. Then press into cookie shapes with your hands or the bottom of a spoon.
You can also press some chocolate chips into the unbaked cookies at this time.
Place on a cookie sheet, lined with parchment paper if desired, and bake for eight minutes on the oven center rack.
Let cool before handling, because they firm up as they cool. Store leftover cookies in an airtight covered container on the counter, in the refrigerator, or in the freezer.
Recipe tips and tricks
Because there are so many different types of protein powders and they do not all act the exact same way in recipes, some types of protein powder may require more nut butter if your dough is too dry or more protein powder if it's too wet.
Don't want to use protein powder for the cookies? Feel free to substitute an equal amount of oat flour for the protein powder. Or experiment to find the ideal amount of coconut flour or almond flour to use as a substitute. If using coconut flour, you will need much less.
If using honey, agave, or pure maple syrup instead of sugar, you may need to add more protein powder, a little at a time, to achieve a cookie dough texture.
Most importantly, be sure to use a protein powder that you already know you like!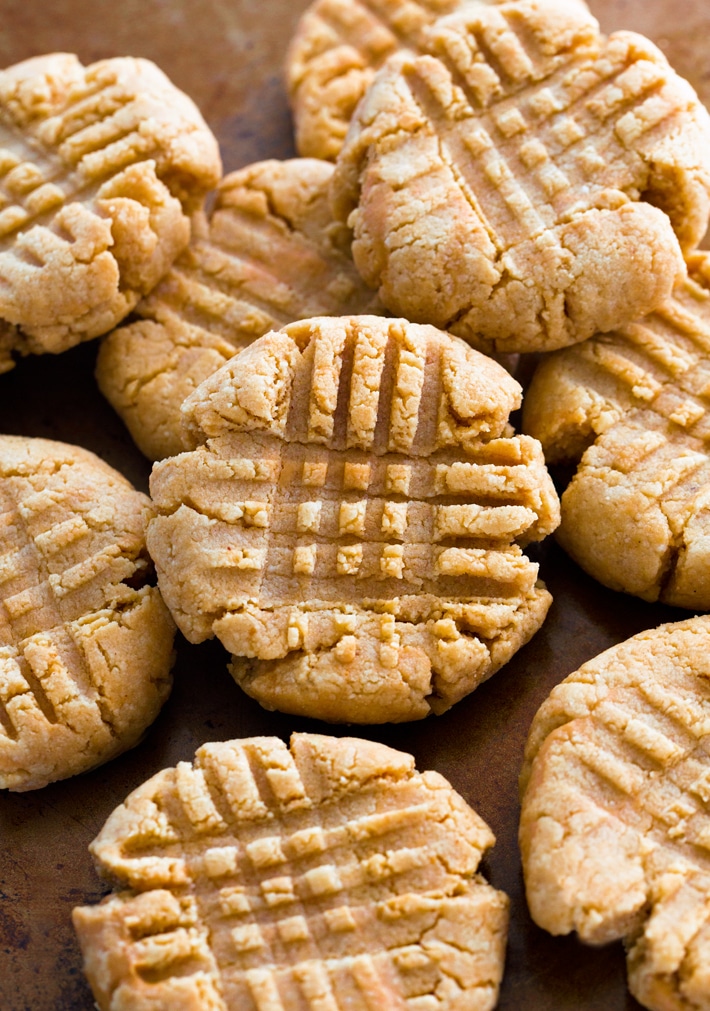 More Healthy Cookie Recipes
Keto Cookies
Healthy Chocolate Chip Cookies
Snowball Cookies
Keto Peanut Butter Cookies
Coconut Flour Cookies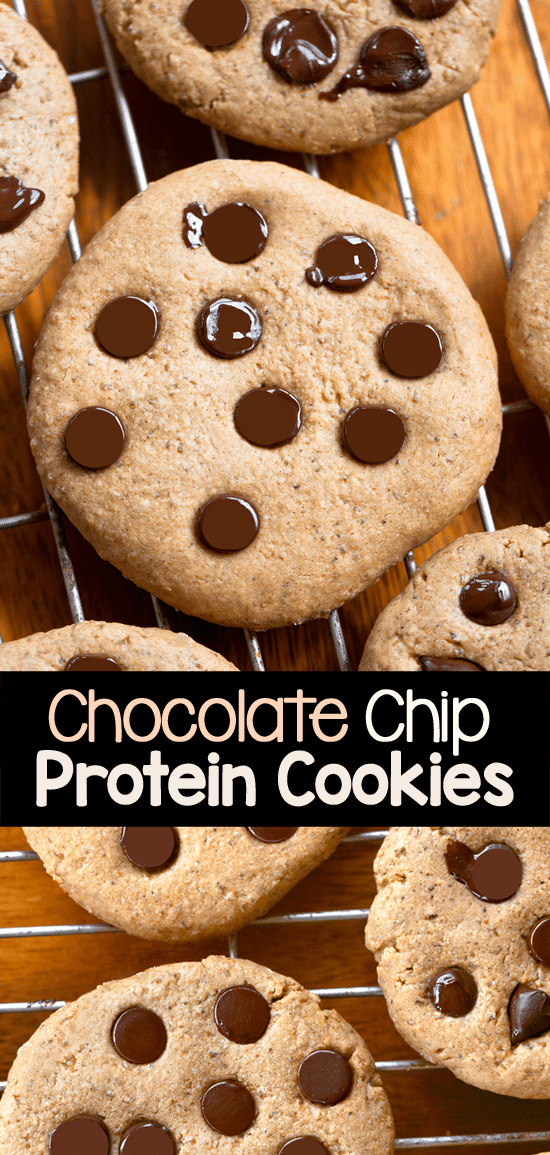 Pin it now to save for later
1/2

cup

nut butter of choice

1/2

cup

protein powder

(64g)

2

tbsp

sweetener of choice

1/8

tsp

salt

1/2

cup

chocolate chips,

optional
Before beginning, it's very important to read through the tips and tricks above for best results. To make the protein cookies, stir all ingredients together to form a cookie dough texture. Break into four pieces, roll into balls, then press into cookie shapes with your hands.

View Nutrition Facts
High Protein Recipes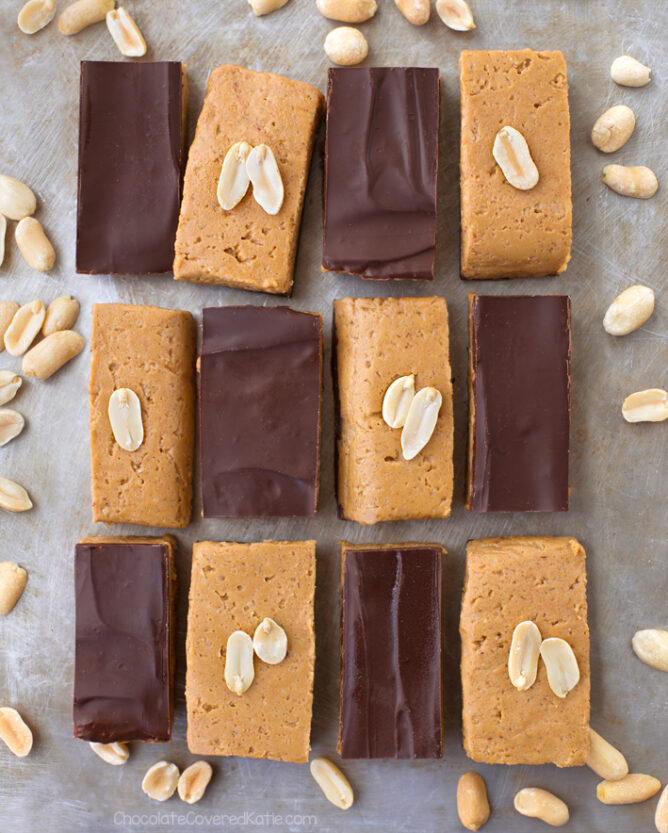 Protein Bars – 5 New Flavors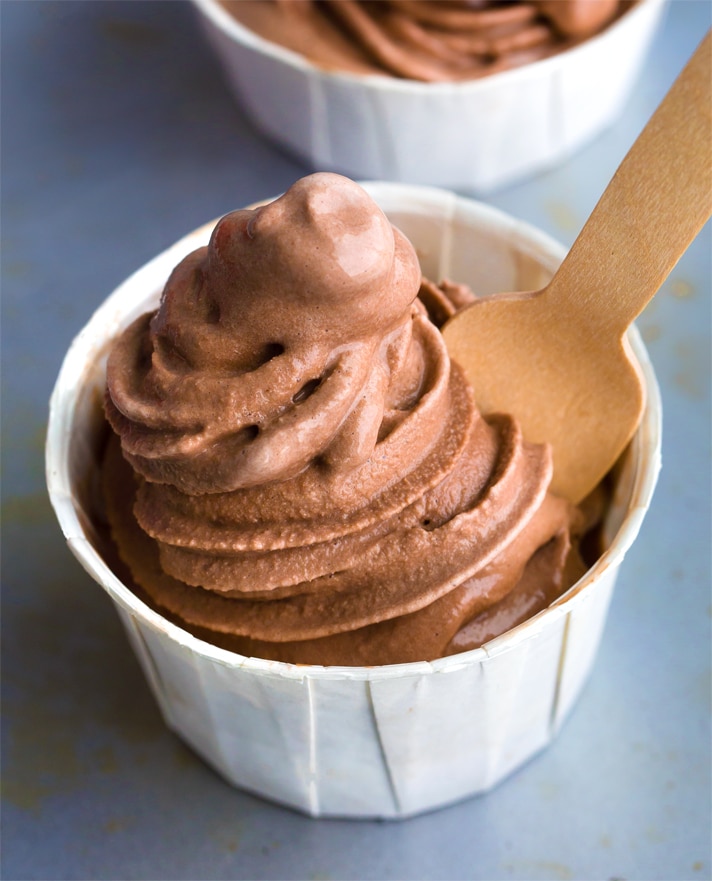 Protein Ice Cream
Peanut Butter Banana Smoothie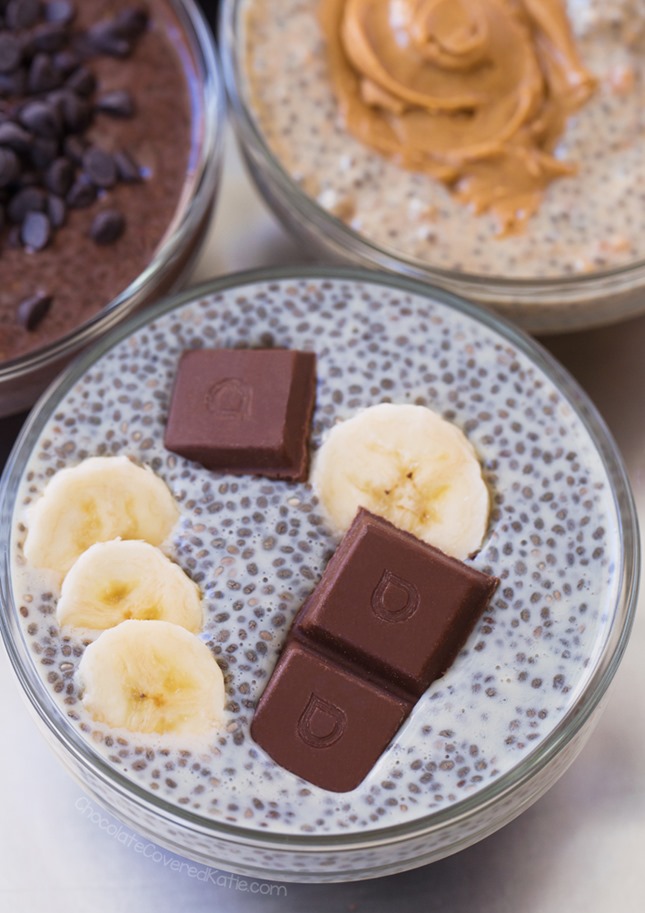 Chia Pudding Recipes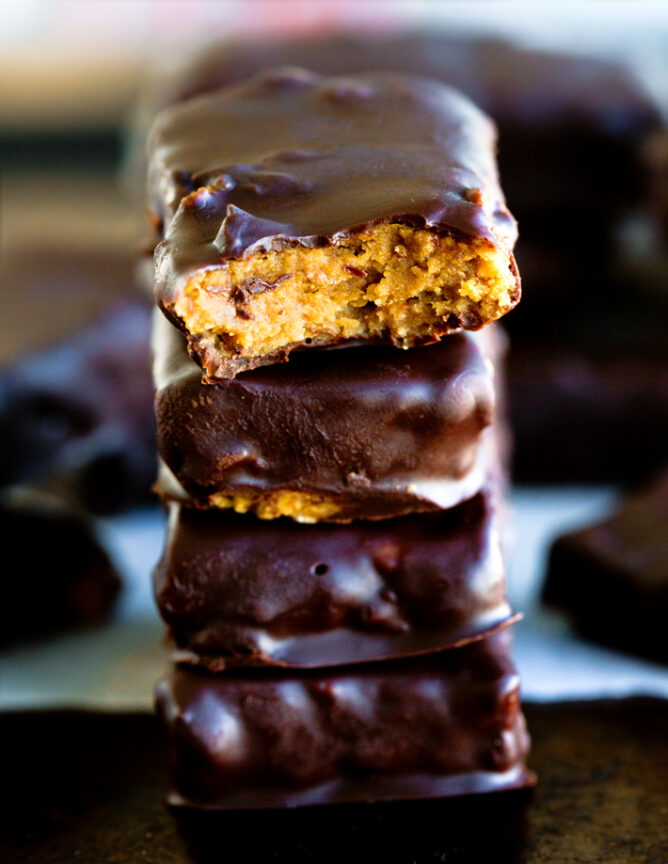 Keto Protein Bars
Published on June 19, 2022
Meet Katie
Chocolate Covered Katie is one of the top 25 food websites in America, and Katie has been 
featured on The 
Today Show, CNN, 
Fox, The 
Huffington Post, and 
ABC's 5 O'Clock News. Her favorite food is chocolate, and she believes in eating dessert every single day.
Learn more about Katie
5 minutes or less chocolate gluten-free healthy recipes high protein no-bake nutella peanut butter soy free sugar-free
Get Free Recipes
Don't Miss Out On The NEW Free Healthy Recipes
Sign up below to receive exclusive always free healthy recipes right in your inbox: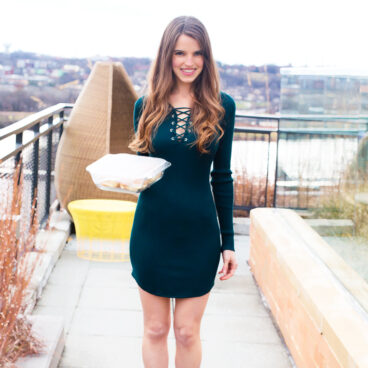 Popular Right Now