mbg Deputy Commerce Editor
By Braelyn Wood
mbg Deputy Commerce Editor
Braelyn Wood is the Deputy Commerce Editor at mindbodygreen. She has a B.S. in journalism from Northwestern University, along with a certificate in marketing.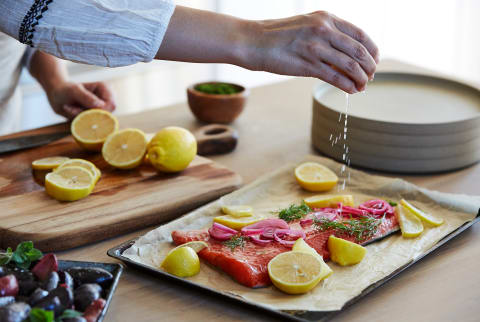 Image by Trinette Reed / Stocksy
May 24, 2022
Despite first rising to popularity in the 1950s, the Mediterranean diet isn't going anywhere. Its link to longevity, weight loss, and brain health has made it a popular approach to eating for many.
Better thought of as an inclusive eating plan than a restrictive diet, it promotes consuming whole foods like nuts, legumes, lean proteins, fruits, and vegetables with an emphasis on ingredients high in healthy fats and omega 3s—all paired with regular activity and a glass (or two) of red wine. 
While a Mediterranean diet is certainly not as restrictive as other eating plans, such as the keto diet, it does require planning to ensure you're hitting a good balance of healthy fats, carbohydrates, and lean proteins. That's where the best Mediterranean diet meal delivery services come in.
How we picked:
We searched for the highest quality of ingredients with an emphasis on organic options that are sustainably or locally sourced.
We scanned every menu to ensure customers felt empowered with options. We also made sure the brand allows for customization based on dietary needs.
We vetted each brand's commitment to staying green as part of our requirements.
Every food budget is different, so we provided a range of options to suit different allowances.
Most meal delivery services don't curate their options specifically to a Mediterranean diet; however, they offer plenty of recipes that fall into this category of eating. You'll have to take a critical eye to the brand's weekly offerings, but it's easy to find meal kits packed with nutritious recipes powered by whole foods. As a result, we considered both meal kits with curated plans and those without for our roundup.
When selecting our top picks, we also considered the lifestyle's promotion of social relationships. As a result, we opted to skip ready-to-eat meals as part of our selection process, instead opting for meal kits that included servings for multiple people. While you definitely don't need to have regular dinner parties to make your meals social, it was important to allow for the option within our criteria. On that note, a couple of the brands included also offer ready-to-eat options for those with a busier lifestyle who need fast and easy options.
mbg's pick of the best Mediterranean meal delivery services of 2022:
Pro:
Mostly organic
Ready-to-eat options
Variety
Cons:
Longer prep time
Shipping fee
Spend less time stressing over your meal selection with Sunbasket's curated Mediterranean plan. It lets you filter out meals that fit the lifestyle's criteria, along with additional filters for gluten-free, pescatarian, or vegetarian recipes. 
Get even more specific with options to skip soy, dairy, shellfish, and more to ensure the final food selection best suits your body's needs. You'll also have the choice of ready-to-eat meals or meal kits—although we prefer the latter for more control over your menu. Just be sure to look for the "speedy" options in the recipe description if your weekdays tend to run low on time.
 Example meals: 
-Chicken breasts with olive-leek sauce and sautéed kale
-Lentil, mushroom, and apricot burgers with arugula salad
-Curried salmon and kale salad with warm carrot-ginger vinaigrette
Sustainability quality: Almost all produce is organic with rare exceptions, earning Sunbasket high marks for quality ingredients. A majority of packaging is also recyclable or compostable with the brand actively working toward 100%. 
Cost: From $11 per serving for meal kits
Pros:
Improves culinary skills
6-serving meals
organic
Cons:
Smaller menu
Delivery fee
Limited allergen filters
The good news? Green Chef is a USDA-certified organic company, so you'll reduce food waste and get all the high-quality ingredients you need without a trip to the grocery store. The bad news? The brand doesn't necessarily offer a Mediterranean-specific menu, so you'll have to do a little extra legwork to find the recipes that suit your needs. (You can customize your initial sign-up to reflect your desire for whole foods and healthy fats.)
When it's time to select your recipes, the Balanced Living plan is the perfect place to start. Built around flexibility, it offers plenty of whole-foods-focused recipes with ingredients pre-measured for each recipe.
Example Meals: 
-Smoky tilapia with rémoulade and cheesy cauliflower grits
-Harissa-spiced shrimp with cauliflower and slaw 
-Garlic-honey chicken with couscous kale salad and almonds
Sustainability Quality: Green Chef was the first meal delivery service to go carbon-emission-neutral and sets the precedent for making the process more sustainable than the typical grocery supply chain. Along with selecting completely organic ingredients, the brand partners with sustainability organizations to ensure it lives up to the "green" in its name.
Cost: From $10 per serving
Pros:
Improves culinary skills
Carbon netural
Humane animal treatment
While you shouldn't start consuming red wine just to follow the Mediterranean diet, moderate consumption is encouraged. Blue Apron's wine program lets you curate a six-pack of its 500-milliliter bottles, which equate to two-thirds of a regular wine bottle. The result is just enough wine for two, which pairs perfectly with the brand's weekly rotation of recipes.
You won't have a curated Mediterranean diet menu, but Blue Apron's Wellness plan follows similar basics: whole ingredients and healthy fats. Developed with a nutritionist, these recipes feature sustainably sourced seafood, non-GMO produce, and antibiotic- and hormone-free meats available in up to four servings per meal.
Example Meals: 
-Sheet pan salmon with green goddess potatoes and arugula
-Black bean and quinoa bowls with guacamole and roasted sweet potatoes
-Za'atar tilapia and vegetable farro with harissa-honey glaze and tzatziki
Sustainability Quality: Blue Apron hit its goal for carbon neutrality in March 2022, making the brand one of the more sustainable choices. Along with following an animal welfare policy, the meal delivery service is on a mission to make all packaging either compostable, reusable, or recyclable by the end of 2025.
Cost: From $8 per serving
Pros:
No shipping fee
Plant-based
Ready-to-eat options
While seafood is often considered an integral part of the Mediterranean diet, it's not a necessity as long as you're sticking to a produce-heavy diet with plenty of fat. Plant-based meal delivery service Purple Carrot gives a robust selection of breakfast, lunch, and dinner options to stick to your eating plan with filters for gluten-free, high protein, or under-600 calorie meals.
Unlike other brands, Purple Carrot doesn't charge a delivery fee, but its offerings are pricier. Save money by opting for larger serving sizes (up to four per kit) and more deliveries—with recipes this delicious, you won't mind having leftovers.
Example Meals: 
-Falafel bowl with harissa glazed carrots and dill garlic sauce
-Loaded avocado toast with dill and seeds
-Sumac tofu fattoush with kalamata olives and creamy cucumber dressing
Sustainability Quality: Purple Carrot prioritizes organic ingredients when possible but doesn't promise a fully organic meal, instead focusing on quality and seasonal availability. It also works with the Farmlink project, which connects farmers to food banks to prevent food waste. Plus, recycling is easy thanks to the brand's in-depth onsite guide.
Cost: From $10 per serving
Cons:
Not diet-speciifc
Not organic
HelloFresh likely needs no introduction—it's a leader in the meal delivery space. But that innovation is far from over: The brand lets you swap out sides and proteins to make a recipe your own with the HelloCustom plan, ensuring you're able to adapt recipes to suit the Mediterranean diet. Whether you're swapping steak for salmon or switching processed sides for veggies, it's possible to transform the recipes to work for you, not the other way around.
Additional filters allow you to search for family-friendly, pescatarian, vegetarian, or quick-and-easy meals from the weekly catalog of more than 30 recipes. Bonus: Servings are super affordably priced.
Example Meals: 
-Roasted veggie kale salad with chicken
-Chickpea-powered Mediterranean bulgur with zucchini 
-Pesto-spiced shrimp with pesto couscous and blistered tomatoes
Sustainability Quality: HelloFresh visits every supplier facility to ensure it's up to standards, although it doesn't focus on organic ingredients. Its biggest sustainability standout is creating a team specifically to reduce packaging waste by testing new materials and new products to work toward less waste.
Cost: From $7 per serving
What is the Mediterranean diet?
The best part of the Mediterranean diet is that it emphasizes eating a robust rotation of whole foods rather than drastically restricting what you can eat. This flexible approach has made it a popular pick for many, and U.S. News World Report's annual ranking even picked it as the best overall diet.
The base of the diet is whole grains, beans, legumes, nuts, seeds, vegetables, fruits, olive oil, herbs, and spices—all familiar additions to anyone who follows the Blue Zone diet. It also incorporates lean protein from fish and seafood with a less regular consumption of poultry, eggs, cheese, and yogurt.
While you can eat red meat and processed foods, they tend to be limited. Of course, there is one unexpected part of this diet: the encouragement of moderate red wine consumption, which is high in antioxidants.
Just remember: The Mediterranean diet is more a lifestyle than a diet. It also encourages regular physical activity and social relationships. In fact, a 2020 cross-sectional study found a link between social support and sticking to a Mediterranean diet, although further studies are needed.
And if you're still not convinced to give it a try, factor in the many health benefits associated with the diet. Studies have linked the Mediterranean diet to promoting heart health and a longer life span, likely due to the emphasis on healthy fats from fish, nuts, and olive oil. Plus, it's been shown to be a more effective method of weight loss than a low-fat diet. (FYI, there are just some of the many benefits—we've got the full rundown on the health benefits of the Mediterranean diet here.)
The takeaway.
The Mediterranean diet may promote longevity, but it can still be a time-consuming and expensive way of eating. A Mediterranean diet meal delivery service saves you time and money by skipping the grocery list in favor of a weekly delivery to your door—and we've already found the best services. Whether you're a plant-based eater seeking new recipes or a pescatarian hoping to invigorate your taste buds, our curated list has an option for you that'll make it feel like you're living on the Mediterranean coast. Flights not included.