We use affiliate links. If you buy something through the links on this page, we may earn a commission at no cost to you. Learn more.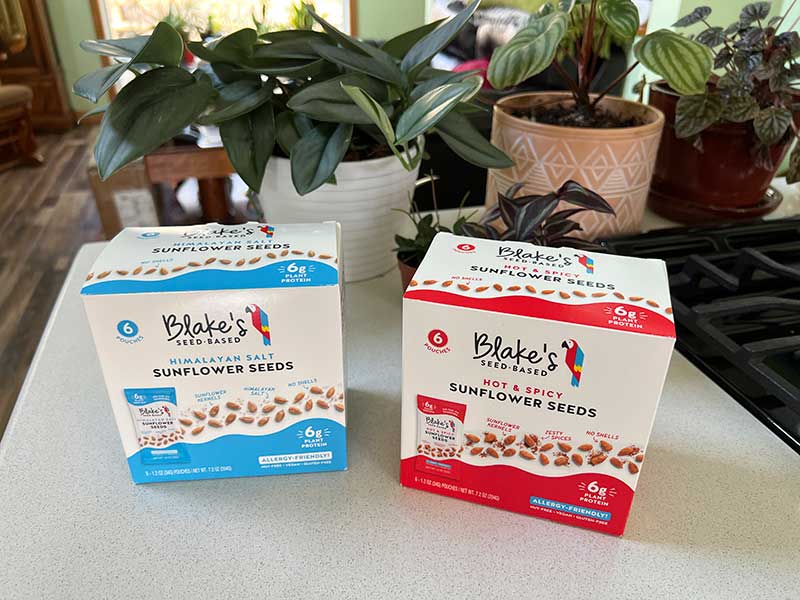 REVIEW – I don't snack a lot, but when I do, I like to choose snacks that are low in carbs, have healthy fats, and taste great. Last year, I reviewed Blake's Seed-Based rice crispy treats, and a couple of weeks ago Blake's Seed Based sent me samples of their new Snacking Seeds. Let's check out these savory snacks.
What is it?
Blake's Seed Snacking Seeds are snack-sized pouches of roasted sunflower seeds that are vegan, allergy-friendly, and contain no artificial ingredients.
Flavors, ingredients, and taste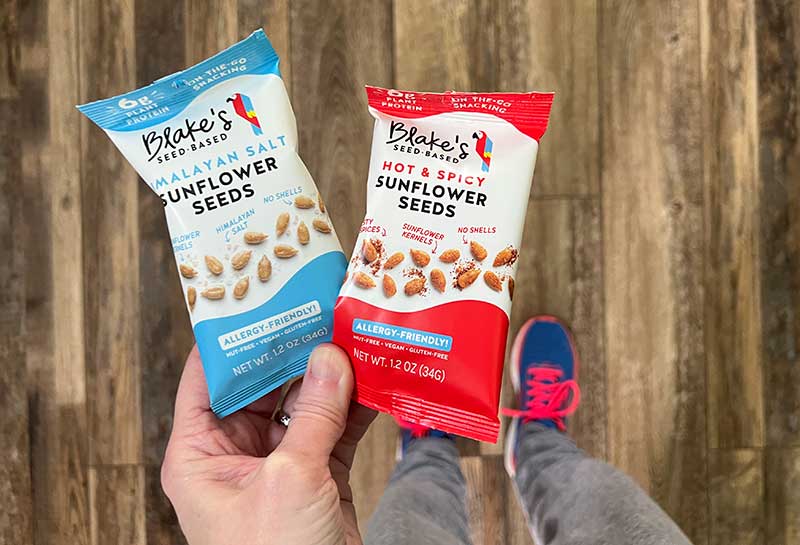 Blake's currently sells three flavors of their snacking seeds. There's the Hot Spicy flavor, the Himalayan Salt flavor, and the Honey Roasted flavor. They sent me the Hot Spicy and Himalayan Salt flavors. Since they did not send me the Honey Roasted flavor, I'm only going to talk about the other two flavors of snacking seeds.
Blake's Seed Based Himalayan Salt Snacking Seeds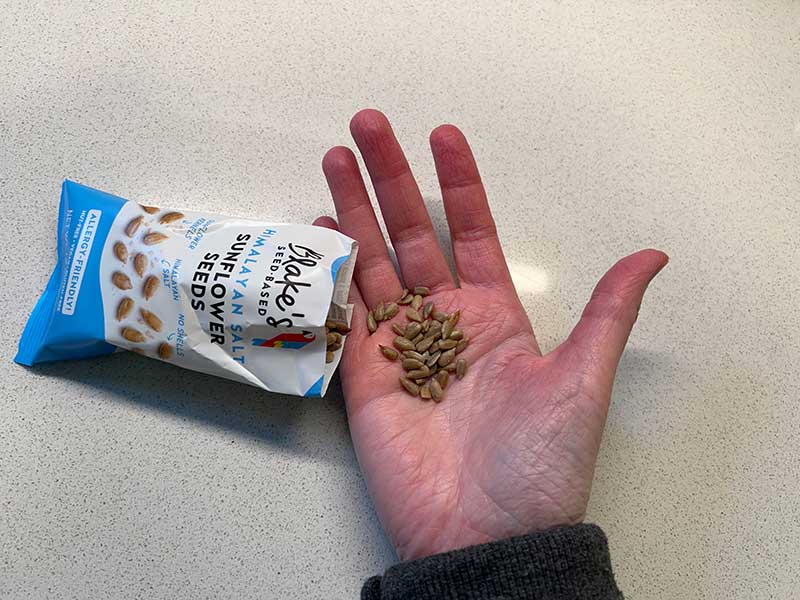 The Himalayan Salt flavor of Blake's Snacking Seeds are just plain sunflower seed kernels with salt… Himalayan pink salt. Check out the ingredients below.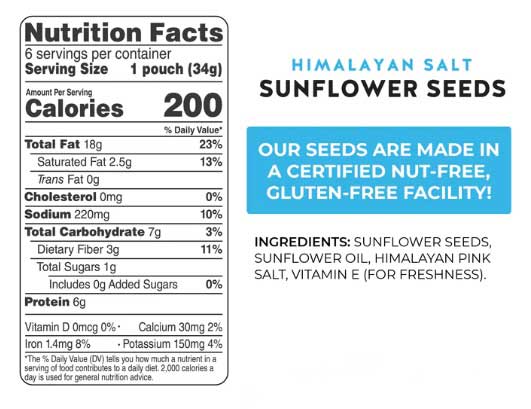 Each pouch offers a nice portion of seeds with 200 calories per pouch/serving. As far as flavor, they have an almost buttery flavor. Yum!
I like that each serving is only 4g of net carbs, which makes them keto-friendly, and they also have 6g of protein.
Blake's Seed Based Himalayan Salt Snacking Seeds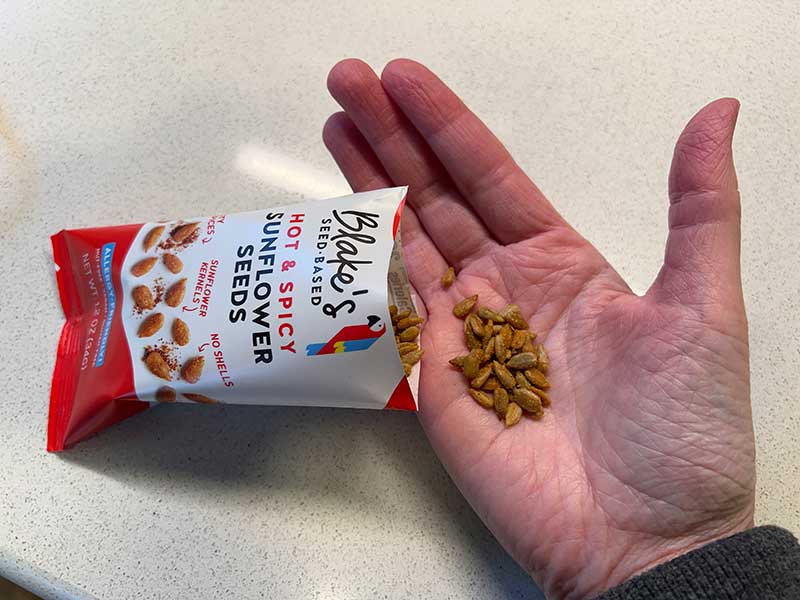 The Hot Spicy flavor of snacking seeds was not to my liking. I was hoping that they would have a BBQ, nacho, or taco seasoning type of flavor, but to my taste buds, they had a strange smoky flavor with noticeable heat.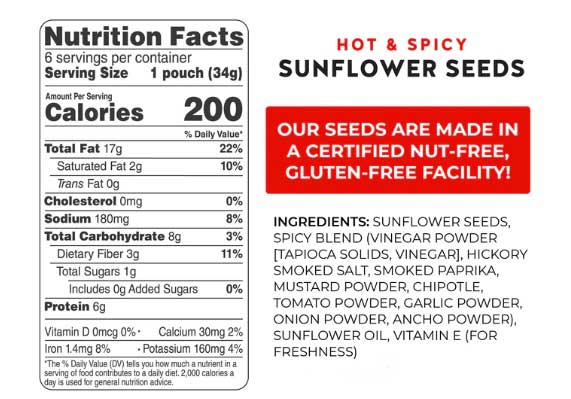 Maybe it was the mustard powder that put me off because I do not care for the flavor of mustard. Note that this flavor of Snacking Seeds has the same calories per serving (200) but they are 5g of net carbs instead of 4g like the Himalayan Salt flavor. If you're not familiar with the term net carbs, you take the total carbs and subtract the fiber.
What I like
Clean ingredients
Made in an allergy-free facility
Low carb/Keto-friendly
What I'd change
Final thoughts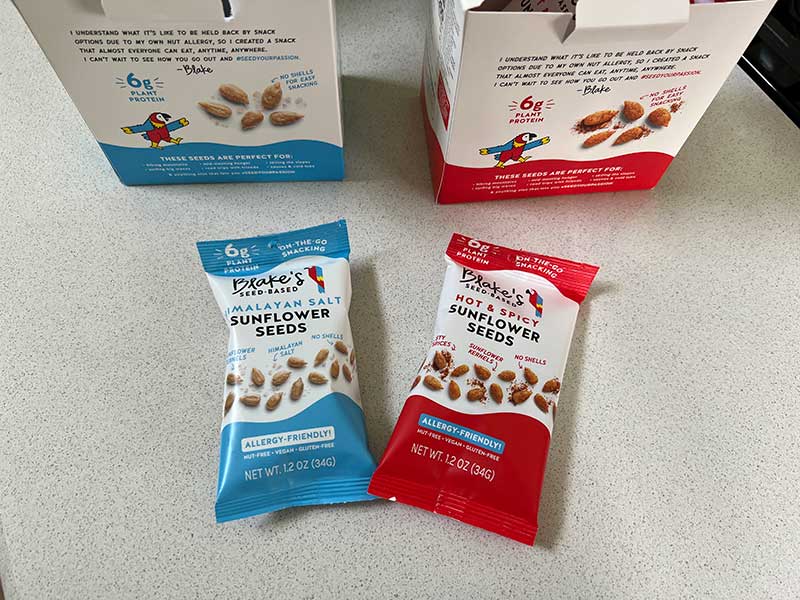 You're probably wondering why you should consider buying these sunflower seeds instead of other mainstream brands of sunflower seeds that you can find at your local grocery store. I think the biggest reason is that Blake's makes a point of saying that their snacks are allergy-free and are made in a certified nut and gluten-free facility:
Blake's unlocks the power of seeds in each of their snacks. Seed-Based nutrition helps create a safer environment for people with and without food allergies. Seed-Based means Blake's is free from the "Top 9" allergens that most people with food allergies are affected by, including peanuts, tree nuts, wheat, eggs, dairy, fish, shellfish, and soy. All of Blake's Seed Based snacks are made in a certified nut-free and gluten-free facility.
In addition to people who have allergy issues, people who eat low carb or keto like me like to keep their daily carbs really low in order to keep blood sugar levels in the normal range. These snacks from Blake's Seed Based help to do that while offering clean ingredients and portion control servings.
Price: $14.99 for a box that contains 12 servings/pouches Where to buy: blakesseedbased.com Source: The sample for this review was provided by Blake's Seed Based.